TESTIMONIALS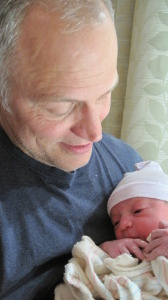 Paula supports the whole family. She was such a help to us when Conrad was born! She made mushroom soup that my husband loved. She fed me, massaged me, helped me stretch out sore muscles, gave moral support and helped with whatever I needed. In early mornings, she spent quality time with Conrad so that I could sleep. My only regret was that I didn't ask her to stay longer with me.
Melanie K., Washington DC
A moment in your life when the unknown is so scary. A time where you feel overwhelmed, anxious, nervous and excited all wrapped up into one. This experience I am speaking of is the joy of life, the miracle of bringing a precious little baby into this world. I am a first time father and a person who thought he had it all together and could take on any obstacle thrown my way.
Let me tell you no matter how much planning or effort you put into becoming a parent, you can't plan for the feeling of seeing your new born for the first time and holding him ever so tightly against your chest.
Accompanied by an overwhelming feeling of love and compassion for this little person you just brought into this world. Lucky for us we had Paula Terry.
Paula is a doula. A doula is a nonmedical person who assists a woman before, during and after childbirth, as well as her husband and/or family by providing physical assistance and emotional support.
Let me tell you that's exactly what she did and that was exactly what we needed. Paula brought such a breath of fresh air into our life and showed us that with all the drama in the world and every issue and problem that exists, there is nothing more important than the love we convey and our overall positive attitude toward this extremely joyous but nerve racking time in our lives.
She brings a relaxed, calm and positive vibe to the situation and constantly provides support at a time when all parents can think about is will my kid be healthy. Will he look like me?
Paula made all those thoughts dissipate when she arrived. Our hospital room was loaded with essential oils like lavender, citrus blends and peppermint. We had music in the background that created a mellow vibe that set the tone for an unbelievable delivery.
Paula stuck by our sides the entire time. She gave craniosacral therapy along with other relaxing techniques to keep everyone calm, something that I can say from experience is not the easiest thing to do.
Our delivery went as smooth as it could go in large part due to Paula's presence. Paula has been an intricate part of my son's life since he was born, She comes over and spends time with him on a weekly basis. We have grown a bond that goes beyond anything I thought possible. She has become part of our family and I only hope that in time I can repay the kindness she has shown my family and my perfect little baby boy Kai.
Thanks Paula! Love you!
Ben F., Naples, FL.
Thank you Paula for the gift of your massage and healing. You see me through the eyes of your heart and your wise hands always soothe my soul. I learn something new hanging out with you, your bodywork is a celebration of life!
Genai Ellen W., Naples, FL.
Paula is love. She is understanding, dedicated, passionate and comforting. Her helping hand is always out stretched. Having the honor of Paula being my doula will forever be incomparable and such a joyful, sacred place in my heart and mind. I would recommend Paula to anyone who is looking for the real deal.
Kati C., Naples, FL.
Thank you so much for the Heart Centered Therapy, I am truly grateful for the insight. Paula, you are so full of love, can't wait for next session!
hugs and love,
Stephanie D., Orlando, FL
You are a treasure. Don't ever change.
Conrad, Heart Centered Therapy student
Thank you Paula, Simply incredible! Yes, you are an incredible massage therapist as you treat not only one's body but their whole person (body, soul and spirit). You focus on the client, wanting them to feel their best when time is finished with you, yet that great feeling lasts all week long.You completely give of yourself during your treatment time, I sense I become the most important one in the room. I deeply appreciate your genuine care. No other therapist shares like you as I sense they have not completely accepted themselves as a person willing to show love to others. I find you absolutely unique.
Lloyd D., Naples, FL
Paula, you have added a whole new dimension to the experience of Heart Centered Therapy! You are such a free spirit.
Love you,
Daion, Heart Centered Therapy student